Cruise boats
For projects such as cruise boats, restaurant boats, floating pontoon, requirements are identified.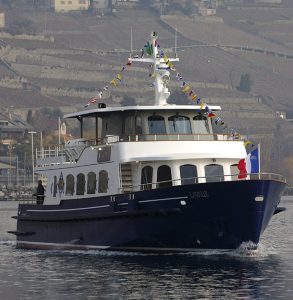 Paumier Marine takes all these requirements into account when designing the equipment.
Comfort: smooth flow air distribution, specific blowing speed and temperature preventing customers from any discomfort.
Sound level: Sound level control is obtained through low air flows in air systems and acoustic insulations.
Speed variation is one of the solutions used to adapt ventilation supply according to boat's requirements.
Aesthetic: our design department and our manufacturing workshop allow us to integrate tailored ductworks and blowing terminals to boat's design.
Dimensions: for main equipment (refrigeration unit, air handling units) our flexibility allows us to adapt to integration requirements.